Deploy and manage video in applications and processes throughout your organization
Unmanaged video or a proliferation of point solutions just lead to chaos and high costs down the road. The Ravnur Video Management Platform is the highly scalable and flexible backbone that enables the capture, publishing, storage and delivery of video content throughout your organization. It integrates with enterprise applications and delivers video to users where they need it and when they need it. The management console allows easy access and control of users, workflows and content, and the reporting dashboard takes advantage of robust analytics to give users and administrators insight into key metrics.
Even IT gets to share in the benefits. Its cloud-based architecture means that you don't need any additional investment in infrastructure. It scales automatically according to load, maintaining high performance and 99.98% guaranteed availability.
Video Management Platform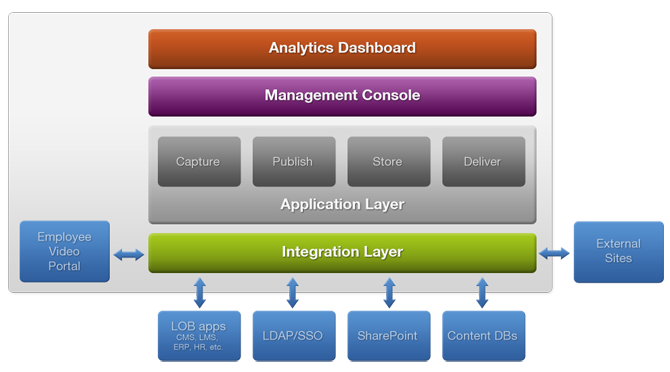 Application Layer
Capture
The capture module addresses the needs of the video content administrator as well as the ad-hoc content creator. The bulk uploader client allows the uploading of entire libraries in the background, while the web-based uploader enables simple uploads of content up to 2GB in size. In each case the user has the ability to add metadata such as title, description, language, privacy, etc..
Publish
Creating versions of video content that your browsers and mobile devices can play is the key to universal access and value for your viewers. Ravnur's configurable transcoding engine receives uploaded content and transcodes it to multiple preselected formats while preserving the original as a reference copy. The standard configuration accepts the world's most common video formats including but not limited to: .3g2, .3gp, .asf, .avi, .flv, .mov, .mp4, .mpeg, .mpg, .rm, .vob, .wav, .webm, .wmv, and .xesc. Output formats and bitrates are equally flexible to ensure coverage of all browsers and devices.
Store
Multi-media content is stored securely in Microsoft's Windows Azure cloud, which provides redundant storage in physically separated datacenters. Even if an entire datacenter goes down, the content is still safe, available and accessible without interruption. For organizations that are looking for high performance delivery of content around the world, we use the Azure Content Delivery Network which edge caches content at nodes around the globe. We support other CDNs as well.
Deliver
Delivery of video content is critical user-facing functionality. Ravnur's delivery model supports the core tenets of: view on any platform or device, high performance regardless of location and bandwidth constraints, and support of collaborative features in all consumption modes. Ravnur offers HTML5 players with Flash fallback capability as well as Silverlight players. Additionally, Ravnur's library of widgets, webparts and APIs allow video to be viewed in a wide range of applications and portals.
Support Layers
Analytics Dashboard
The customizable analytics dashboards are designed to deliver the information relevant to administrators, content creators and users. Administrators have access to reports on usage patterns and statistics that relate to portal health, user behavior and content status. Content creators can access detailed viewer behavior statistics to help them improve production skills. Users can analyze the community interactions and enhance their collaboration with others.
Management Console
Through the Management Console, administrators can manage users, groups, content, content promotions, and integrations without having to contact support every time a change needs to be made.
Integration Layer
Integration with existing IT infrastructure and applications is critical for the uptake and success of any collaborative content platform. Ravnur's open APIs allow seamless integration with leading content management systems, learning management systems and ERP systems.